I'm talking, of course, about the badass, award-winning, icon Queen Latifah, who arrived on the scene in the 90s and has remained in the spotlight since. I've loved her since I first heard "U.N.I.T.Y." as a tween (look it up, it's still fire), and have continued to admire her work as an actor, singer, and activist. Plus, she's also a sister Girl Scout! Now, she's executive producer and starring in the latest reboot of The Equalizer on CBS, and I was thrilled to work with her on a scene for an upcoming episode! Save the Date to watch: this Sunday, February 21, 8pm ET.
As I mentioned in my last post, I've gone back to auditioning for all kinds of television roles during this pandemic, and while I'm grateful to be booking some of them, most of these opportunities don't allow for much creativity. I was pleasantly surprised to find that wasn't the case on The Equalizer set. I was constantly asked for my ideas and insights on this character – from wardrobe, to hair and makeup, to backstory, and more – which, from my experience, is a really rare experience for a dayplayer to have. I mean, I was shooting one scene! The director, Slick Naim, even pulled me and Queen aside to rehearse the scene and lines off set – we were given time to get on the same page and freedom to ensure the words felt natural in our mouths. I also got to watch Queen switch between her actor hat and her executive producer hat, which was thrilling. It all truly made me feel like I was a part of the team, like I was valued as an actor; this tiny bit of power sharing gave me so much agency, and I had an unexpectedly wonderful time on set. I felt relaxed, grounded, and like I was able to hold my own opposite a titan of our industry.
I can't help but wonder if some of this feeling of equity comes from having a Black woman at the helm of this show. Queen was incredible on set – her energy was so positive and warm, such a calming, fun presence amidst the chaos of not just making a television show, but making a television show in the midst of a pandemic, with an air date looming. (For reference: I shot episode 3 in early January. That's FAST turnaround.) And yet, no one needed to be reminded that SHE was the star. It was a really wonderful lesson in power dynamics – power doesn't need to be loud or re-assert itself.
I'll share some behind the scenes photos on Facebook and Twitter after the episode airs, so please do keep an eye out for those!
ICYMI: I'm a Podcaster Now?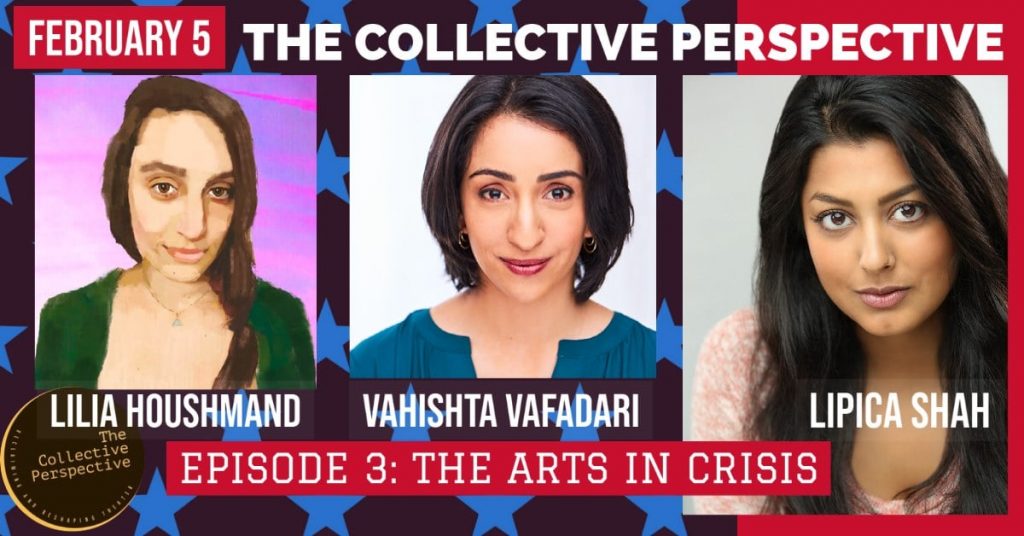 I'm so excited to be in the cohost cohort of The Collective Perspective podcast, where artists from various identities, disciplines, and from across the country take a critical approach on reclaiming and reshaping the theater industry. Because we love it so much!
Episode 3 dropped earlier this month, and it was such a treat to co-host it alongside Lilia Houshmand and Vahishta Vafadari. We dissected Patrica Cohen's article "A 'Great Cultural Depression' Looms for Legions of Unemployed Performers" and processed our shared grief, the current state of the arts, and where we go from here. Listen to the episode HERE or wherever you get your podcasts, and please subscribe, rate, and review to hear more from the Collective!
Bonus: An Audition Outtake
Special thanks to my friend Angel Desai for helping me tape this audition. And for realsies…I do miss directors. And stage managers. And designers. And run crew. And casting directors. And and and…sigh
COVID-19 Chronicles: Day 322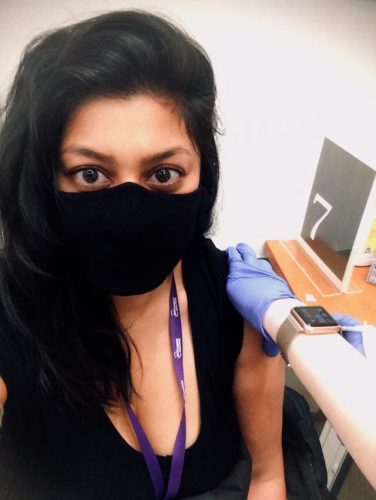 Last week I was lucky enough to receive my first dose of the COVID-19 vaccine, 322 days after first becoming sick with COVID-19. It was a very emotional experience, especially since I'm still struggling with long haul residual symptoms, and I was moved to try to capture the feeling in writing. I wrote the following and offer it now in case it's helpful to any of you:
I nearly cried as the nurse administered my first dose. I told her how strange it felt to be receiving a vaccine almost a year after being so sick, back when we didn't know much about this virus and every day brought some new symptom that made me wonder if it was time to go to the hospital, even though my doctor told me to avoid the hospital unless it was "life threatening" (when does "I can't take a full breath" become life threatening?) I've talked with my therapist about how strange it feels to realize I could have easily been one of the 475,000+ Americans who have died (so far) from this virus. Perhaps tonight I'll tell her how strange it feels to now have something coursing through my body, teaching my body to identify and defeat the microscopic thing that has brought the world to its knees, even as I also deal with long haul respiratory issues, daily reminders of how powerful SARS-CoV-2 truly is.
I am grateful that my part time job as a Standardized Patient (which brings me into close contact with medical students and faculty on the front lines) at NYU Langone/Bellevue made me eligible to receive this vaccine now, in phase 1B. I'm also grateful to the many friends who offered advice and encouragement when I stressed over whether it was ethical for me to take advantage of this opportunity, instead of waiting "my turn" in phase 4. I had to face the fact that my antibodies from wave 1 may no longer exist and may not even be effective against the variants. I had to admit that even though I'm "young and healthy," I'm still at risk.
I am in awe of science, which allowed us to have a vaccine in record time (FYI- the previous record was held by the Mumps vaccine, which took FOUR YEARS to develop), even as I acknowledge that there is still much more to learn and the logistical rollout has been chaotic and confusing, to put it mildly.
The bigger picture is this: the sooner people become vaccinated, the sooner this pandemic will be over. This vaccine isn't medically appropriate for some people, so it's up to the rest of us to protect them. That's what community does. And selfishly, I can't wait to hug maskless people with abandon again- I miss all your faces!!
I only have my own experience with both COVID-19 (and the residual long haul symptoms) and now the COVID-19 vaccine to speak to, but I'm happy to share it and answer any questions I can, if it will help you or anyone else in your decision making. (Please keep in mind that I firmly believe in vaccines as a beneficial tool to combat diseases/pathogens, and I'm not interested in debating their merit.) In the meantime, I'll still be wearing a mask, staying home as much as possible, social distancing, and washing my hands like Lady M. I hope y'all will do the same!