Spring is finally here! This winter felt so much longer than winters past, so I'm relieved to finally be able to have the outside time I've been craving – running, walking, hiking, camping…I didn't realize how much my body and mind had been missing Vitamin D.
Let's see, what else is new? Well…I got married!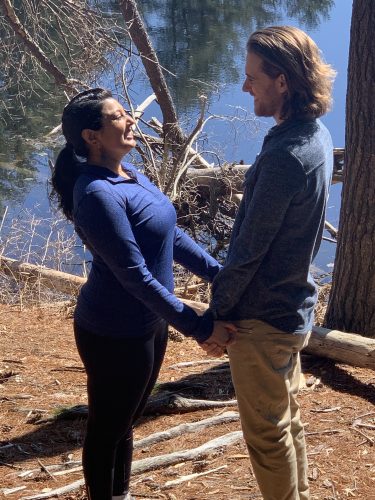 On March 21 (our 15th Anniversary), my partner Eric and I eloped. We fully admit that marriage has never been a priority for us – we chose each other every day for 15+ years! – but when faced with losing my health insurance during a pandemic, we realized that marriage was a way of gaining mutual protections. And, ya know, we do love each other a lot! We are both very grateful that we were able to get married in a way that felt right for us and that allowed us to have the moment just for ourselves. It was a very small, short ceremony in a State Park after hiking to a lovely, quiet spot, after which we took some photos (like the one above) and then went to brunch. We're now officially partners! We're choosing not to use the terms wife and husband, and we are keeping our respective names.
I'm also in a new (virtual) show! It's called Islands of Contentment, and there's more info below on the piece, what I'm doing in it, and how you can watch it. It's so exciting to be part of this stellar team (seriously this cast, crew, and creative team are ROCK STARS) and tell these stories, but it's incredibly scary to do it virtually. Every time I perform, I feel like I'm just talking into The Void. I can't see or hear anyone else when I'm performing; I'm just…talking at a screen in my apartment, and hoping y'all are connecting with me. Have I mentioned lately how much I miss being in a real theatre? Hopefully we'll be back soon <3 If you happen to catch the show, please let me know what you think – what moved you, what made you laugh, what made you feel seen?
About the Show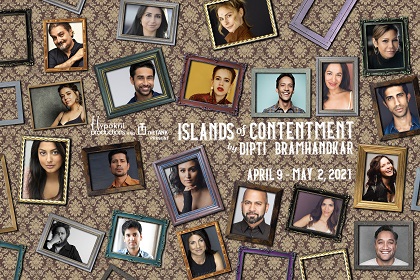 Islands of Contentment
By Dipti Bramhandkar
Co-Directed by Arpita Mukherjee and Hannah Wolf
With selected filmed monologues directed by Rahul Chitella
Co-produced by Hypokrit Productions and The Tank in association with Autonomous Works.
Islands of Contentment is a meditation comprised of thirteen monologues. An elegy to the (dis)harmony of romantic relationships, each piece invites us into intimate, poignant, hilarious interactions with significant others in the form of modern-day confessionals. Thirteen characters reflect on moments that feel strangely familiar: the break-up dream, the plight of the nice guy, the ex who unexpectedly shows up, a baking fetish… No one writes love songs about this stuff.
As mentioned in a recent article in Broadway World, this piece features a cast of South Asian actors from around the world, appearing together on a virtual stage for the first time in theater history. The show is also interactive, so every performance is unique.
I'm performing two monologues, both in the Seven Layer Cake course (check out "Get Your Tickets" below more info on this), which means one must see the show twice to catch them both. It's been a WHILE since I've had to flex my memorization muscles, so these monologues were challenging in more ways than one.
Get Your Tickets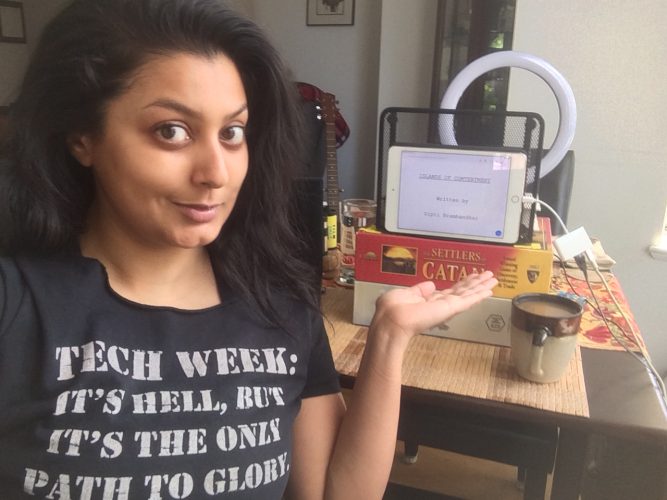 The show runs April 16-May 2, 2021
Fridays: 8pm, 9pm, 10pm ET
Saturdays: 8pm, 9pm, 10pm ET
Sundays: 5pm, 6pm, 7pm ET
Click HERE for more information and to purchase tickets!
This is a show that doesn't have a particular order, so start your evening watching half the monologues in either Seven Layer Cake or Brownie and end your night with the other half. Or if you want to spread it out, come back another night to indulge in the other one.
ALSO…there are two versions of each course (and I've got one monologue in each Seven Layer Cake course!), which means there are actually FOUR versions of this show all with different actors and if your brain doesn't know what to do with all these permutations, don't worry – mine has exploded too haha. No matter which course(s) you choose, you'll be treated to a delicious, moving experience.
Click HERE to learn who will be performing in each course and when!
Audiences can opt to be Inside the Zoom ($40 for an intimate experience and to interact with the performers) or Outside the Zoom ($20 for a streaming, non-interactive version). You can also buy a a 2-course package for $60 Inside the Zoom or $30 Outside the Zoom.
Bonus: Girls5Eva Premiere

Back in February, I shot a small role (pictured above) in the finale of an upcoming Tina Fey-produced musical comedy called
Girls5Eva
.SAVE THE DATE: the entire series will premiere
May 6, 2021
on the new streaming service
Peacock
!
Premise of the show: A 90's girl group that only managed to score one hit gets an unexpected chance at a comeback when their song get sampled by an up-and-coming rapper. Cue hijinks and shenanigans!