I have been living my best Bay Area life since I arrived here almost three weeks ago – long runs along the Bay Bridge Trail, wine and cheese nights with my housemate/castmate/dear friend Nandita Shenoy (we really lucked out in the roomie department since we both love to cook and eat!), and discovering my new happy place: Berkeley Bowl. Oh yea, and I've been in rehearsals at Cal Shakes for the KICKASS world premiere of House of Joy!
It's been a few years since I've taken a gig out of town, and though I do miss being home (and my partner and cat!) nothing makes me happier than working on a new play – especially when that play is a "swashbuckling action-adventure romance set in a harem at the beginning of the end of the Mughal Empire." Double especially when the rehearsal room is majority women+ and people of color! (Dear TheatreWorld: are you paying attention?!) Scroll down to learn more about the play and – if you're in the Bay Area – how to score tickets.
About House of Joy
Directed by Megan Sandberg-Zakian
Featuring
Rotimi Agbabiaka, Raji Ahsan, Rinabeth Apostol, Nandita Shenoy, Sango Tajima, Emma Van Lare, and me!
"Once upon a time and place, in something like 17th century Delhi, an imperial bodyguard risks her life to fight for what's right, turning against everything she's been raised to believe."
I play Her Imperial Highness Princess Noorah, daughter of the Emperor and de-facto ruler of his harem. Bow down! It's been quite fun to play a woman with such power – with a flick of her finger she can condemn someone to death – but also surprisingly challenging. I don't often (ever) get to play characters who are unapologetic about taking up space, who don't have to work at or pretend to be in control. Noorah just IS the most powerful woman in the House of Joy, and everyone knows it. Even the men. She has used childhood trauma to her advantage and has played The Game (of thrones) to rise, but her ambition far exceeds the limits of her gilded cage (or ahem, glass ceiling). I've been drawing inspiration from, yes, Cersei Lannister, but also from Nur Jahan, who actually ruled the Mughal Empire as Empress alongside her husband, Emperor Jahangir, in the 1600s. Google her. You won't regret it.
Get Your Tickets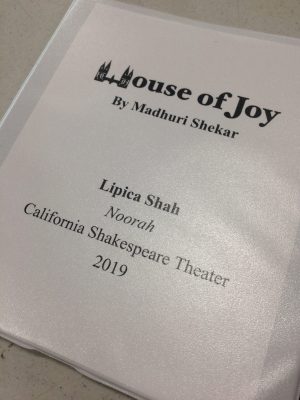 House of Joy
runs
August 14-September 1, 2019
(Tuesdays-Sundays)
All performances are outdoors at Cal Shakes' Bruns Amphitheater in the Orinda Hills (which means: dress warmly!)
Visit Cal Shakes' WEBSITE or call the box office at (510)548-9666 to get your tickets now!
General Tickets: start at $39 for previews and $55 for shows
20 for $20: 20 $20 tix are available every day for that night's show- call the box office from 12pm-2pm
30 and Under: $20 off tix for people under 30- select this option online and provide proof of age at Will Call
Student and Senior Rush: half price tix 30 minutes prior to curtain with school ID or proof of age 65+ (limited availability)
Pay What You Can: at 10am on August 14 for our first preview that night- call the box office (limited availability)
AEA Walk-ins: show the box office your AEA ID for a walk-in comp for any Tue-Fri shows (limited availability)
Military Discount: use code BLUESTAR for 20% off in person or over the phone
And remember: "If there is a paradise on Earth…it is this, it is this, it is this. Welcome to the House of Joy." See you at the theatre!