Is it spring yet? Because I am READY for some sunshine! I kicked off 2019 by spending almost 3 weeks (!!!) on vacation in beautiful – and warm – Chile <3 I was grateful to return to NYC and jump immediately back into development workshops for several new plays, including with Ma-Yi Theater Company, Yale's MFA Playwriting Department, Hypokrit Theatre Company, The Drama League, and Luna Stage. Speaking of Luna Stage…
I'm so thrilled to now be part of their #theatremagic family! We're deep in rehearsals for Heartland, a new play that moves me to tears and gives me all the feels every day. And since I absolutely am a Jersey Girl 4 Lyfe, it feels extra special to get to perform this piece in my own heartland. Read on for more information about the play and how to get your tickets – can't wait to share this one with y'all!
About Heartland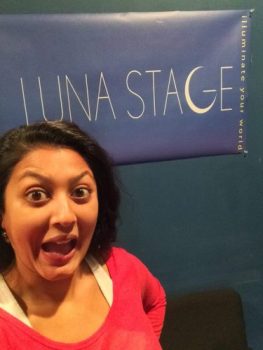 HEARTLAND
"A young mathematician, Nazrullah (
Kareem Badr
), carrying a copy of
The Old Man and the Sea,
travels from Afghanistan to Omaha, and arrives on the doorstep of retired literature professor Dr. Harold Banks (Brian Corrigan). Across the world in Maidan Shar, Harold's adopted daughter Geetee (Lipica Shah) teaches
The Diary of Anne Frank
and finds herself unexpectedly in love.
Heartland
is a magical new play about family, grace, and the consequences of defending an American Empire."
I don't want to give anything else away because this rehearsal process has been seriously feeding my soul, and I want y'all to come see our work! Plus, this show marks a whole bunch of firsts: first time working in the round, first time speaking Dari, and, after 10-ish years of collaborating, my first time working with Ari on a non-devised piece <3
Get Your Tickets!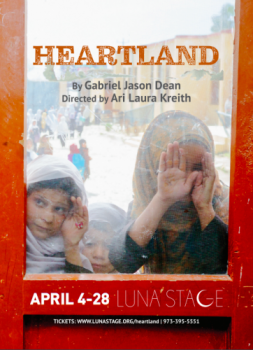 Heartland runs April 4-28, 2019
Thursdays at 730pm
Fridays & Saturdays at 8pm
Sundays at 3pm
All performances are at Luna Stage in West Orange, NJ.
(A short walk from the Highland Avenue NJ Transit station.)
Visit Luna's WEBSITE to get your tickets now!
**Use code FFHEART to get $5 off any performance, as long as you purchase tickets by this Friday, March 22**
General Tickets: $29 Previews & Thu / $39 Fri-Sun
Senior Tickets: $24 Previews & Thu / $35 Fri-Sun
Student Rush Tickets: $16 at the door with a valid ID
If you were a furloughed government employee during the recent shut down, email me for a comp!
Don't forget to "like" my Facebook Page, where I'll post special ticket offers and discounts!
I leave you with this quote from Anne Frank: The Diary of a Young Girl, which has become something of a mantra for me and Geetee as we navigate the playworld: "I can shake off everything as I write; my sorrows disappear, my courage is reborn." See you at the theatre 🙂