These past few weeks have been…rough, to say the least, but we New Yorkers (and New Jerseyans) are a tough bunch; we find ways to dig deep, pull together, and forge ahead. I owe a lot of my resilience to the beautiful cast and crew of my current project, BUMBUG the Musical. You heard me: after a successful workshop last year at The Wild Project, BUMBUG is BACK! Having a creative outlet with insanely talented people to challenge me every day has been a joy – and a sorely needed reminder that life will always go on (albeit with a bit more traffic than usual).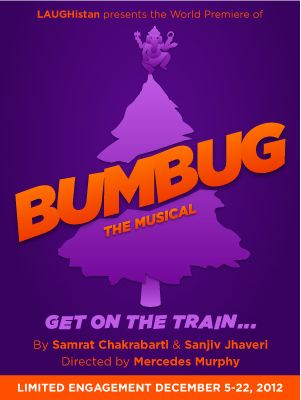 Nothing would make me happier than to share this journey with all of you – whether you saw the workshop last year (when it was called Bakwas Bumbug) or not, I know this is a story we can all relate to and laugh about:
This electrifying rock-opera musical reinvention of 'A Christmas Carol' is told through the looking glass of NYC Immigrants and Hyphenated America. Like so many immigrants, disillusioned deli-owner SCROOGEWALA left his motherland years ago to pursue the American dream. Amidst his battle with holiday merriment, Scroogewala is visited by a motley crew of misfits who remind him that love, loss and laughter are all a part of that dream he'd almost given up on.
I portray SUNITA, a "bright-eyed, young Indian-American girl" who is having a tough time figuring out who she is and what she wants…until she meets Scroogewala.
So if you need a laugh or a cry or just want to make fun of my broken Hindi (sorry mom and dad) COME SEE THE SHOW by clicking 
HERE
 to purchase your ticket(s)! More details below. See you at the show 🙂
LAUGHistan Presents 
BUMBUG the Musical
Written by Samrat Chakrabarti and Sanjiv Jhaveri
Directed by Mercedes Murphy
Featuring Kiarri Andrews, Andrew Guilarte*, Brooke Ishibashi*, Matthew Knowland*, Adrienne C. Moore*, Debargo Sanyal*, Lipica Shah*, and Falu
With Samrat Chakrabarti, Ranjit Arapurakal, Konrad Payne, and Shiv Puri (our incredible band!)
*Equity Approved Showcase
-First Preview: December 5, 2012
-OPENING NIGHT: December 8, 2012
-Closing Night: December 22, 2012
Wednesday-Friday at 8pm
Saturdays at 2pm & 8pm
Sundays at 3pm
Theatre Row – The Clurman Theatre
410 West 42nd Street
New York, NY 10036