IT'S FINALLY HERE: 
BUMBUG the Musical
opens tonight at the Clurman Theatre at Theatre Row! Well, technically it's our first preview, but I'm still excited to share the story with you and to share the stage with such an incredibly talented cast and crew 🙂
If you have already purchased tickets, please let me know what night you're coming so I can see you after the show and thank you in person (and maybe even catch up beforehand!)
And if you haven't had a chance to "get on the train" and purchase tickets yet, below is a little incentive for you – 3 of my favorite photos from our dress rehearsal, captured by the lovely 
Lia Chang
. They're not my 3 favorite moments from the show (come on…I can't give everything away!) but hopefully they'll give you a little taste of what we're all about.
The journey to the stage has been riddled with ups and downs, but we've worked through each moment as a team, and I can't wait to see it all come together tonight. Personally, this whole rehearsal process has been a struggle, a real challenge to my vocal abilities. Many of you saw the workshop of this production last summer (when it was called Bakwas Bumbug). But you might not know that, prior to that short run, the last time I took part in a musical was in HIGH SCHOOL. Back in the DAY!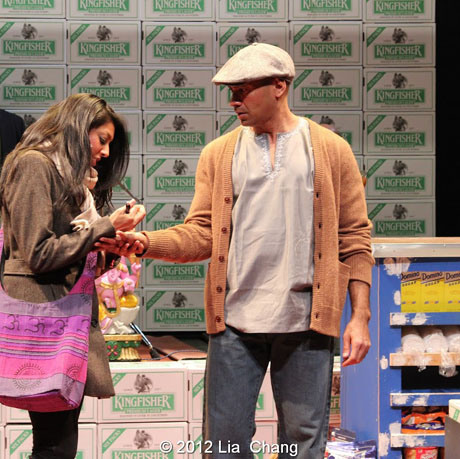 I'm a runner and I enjoy the challenge of long-distance running, so I know all about physical preparation: before we even started rehearsals this time around, I thought it would be a good idea to start exercising the ol' chords. You know, get them in shape before running a marathon (6 shows a week?! EEP!) So we warmed up, we stretched, we went for short jogs, we cooled down, we spent off days doing light cross-training…we even stopped eating and drinking things that could adversely affect us (oh salsa and bourbon – how I miss you!!). I started meeting with a coach to ensure I was on the right track and to rehearse my numbers in a "healthy and sustainable" fashion. I thought I was ready.
Then two days ago, I woke up with no voice at all. I panicked. Two nights before our first preview in front of an audience and I can't speak?!?! NOOOOOOOOOOOOOOOOOOOOO!!!!!!!!! And then I realized that, for all the exercise I'd done, there was one *teensy* thing missing from my marathon prep: rest. My poor chords were fatigued and this was their way of saying "yo, crazy lady! STOP!" So I rested.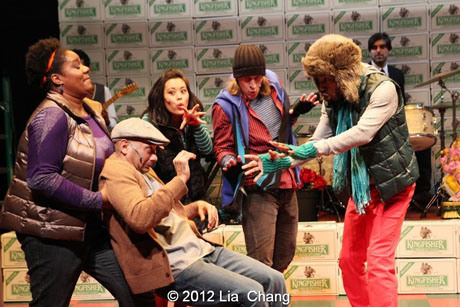 All day Tuesday I didn't speak, I slept, I gargled, I drank honey-lemon tea and all kinds of other concoctions to soothe my aching muscle – special shout out here to my great-grandmother's cure-all syrup combined with my dear friend
Pallavi Sastry's
"I swear by this" routine  (RECIPE IS BELOW!) – and I hoped my chords would forgive me.
On Wednesday I woke up and lo! The speaking voice was back! She refused to come out of my chest, so I sounded like a male smoker dressed in drag, but hey, I can work with that. I went to work, I went to a commercial shoot, I went to rehearsal. All the while I drank enough water to fill a lake, drank my magic concoction, sucked down non-menthol drops like they were candy, and tried my best not to speak. I decided that sleep was the one missing ingredient from my "get well soon" routine, so when I got home from rehearsal, at 11pm, I went to bed without setting an alarm.
I woke up this morning at 1130am. Okay body – you were right. I feel AWESOME! After the trials of these past few days, this preview tonight is nothing – no nerves, just excitement. I think I'll go for a nice long run to amp myself up. See you at the show!!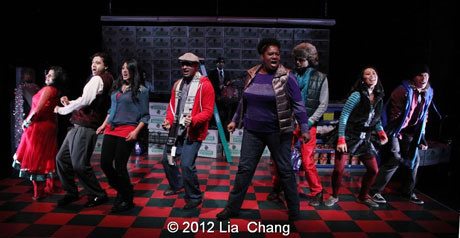 Lipica's (current) "I Have No Voice" Remedy
1) Fill a saucepan 3/4 with water
2) Add 2 inches of ginger (peeled, sliced into 1/2-inch-thick pieces); 1 cinnamon stick; 3 whole cloves; 6 cardamom pods; 2 pectin-based throat lozenges
3) Cover, bring to a boil
4) Remove lid and add a large spoon of raw honey – keep heat on medium, stirring as honey dissolves (about 5 minutes)
5) Remove from heat, strain liquid into a mug
6) Add 1 shot of raw, unfiltered apple cider vinegar to the mug (and more raw honey if you so desire)
7) Stir, drink, ahhhhhhh!