When it rains, it pours…
I'm currently en route to Poughkeepsie, NY, continuing my sudden, wondrous summer of new play development (my FAVORITE thing!) with week two of a workshop of Jaclyn Backhaus's India Pale Ale at New York Stage and Film and Vassar College's Powerhouse Theater. If you'll happen to be in or near Poughkeepsie this weekend, please come check us out! Scroll down for info on how to do that.
This came on the tails of a two-week dance/choreography workshop of another project, Rehana Lew Mirza, Mike Lew, and Sam Willmott's Bhangin' It, courtesy of Project Springboard. We spent that time exploring and incorporating actual dance (BHANGRA dance – google it) into our musical about intercollegiate competitive bhangra. AKA I spent two weeks sweating non-stop and taking copious Epsom salt baths to keep up with the amazing dancers in the cast, but BOOM I did it! She can be taught! *echo echo echo* Scroll down for some pics!
After IPA, I'll be home for a few days before heading up to Worcester, MA for a residency (ok a self-made residency) with my writing partners Jessie and Jared Field so we can work on our musical about our hero Vanita Gupta and her time in Tulia. Then I fly to my theatre home-away-from-home in Minneapolis, Mixed Blood, for a series of staged readings of a play about implicit bias in the medical community. I'm so happy to have these opportunities to throw myself into work that's inclusive, intersectional, and provocative, but once August rolls around I want a vacation!
India Pale Ale Details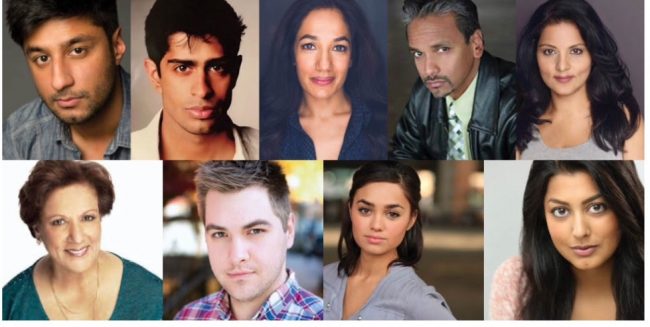 Lookit that gorgeous cast! I'm thrilled to be working with old and new friends on this wonderful play, and we'll be presenting a few staged readings to share our discoveries of this work-in-progress this weekend. If you're able to join, here's the important info:
Written by Jaclyn Backhaus, Directed by Will Davis
All readings at the Susan Stein
Shiva Theater
on the Vassar Campus
Fri, 7/6 at 8pm
Sat, 7/7 at 5pm
Sun, 7/8 at 2pm
Sun, 7/8 at 7pm
India Pale Ale is a smart, poignant, and funny new play about legacy, life, and pirates: in a small Wisconsin town, a tight-knit Punjabi community gathers to celebrate the engagement of a traditional family's only son, just as their strong-willed daughter announces her plans to move away and open a bar. One generation's cherished customs clash with another's modern-day aspirations and ancestors from the family's past haunt the present day, when one sudden event changes everything.
Bhangin' It Sneak Peek
Team Bengal Tiger boomerang fierceness!