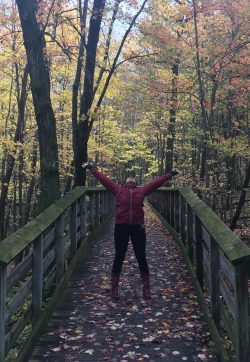 Welcome to sweater weather! My giddy glee at getting to sport comfy long sleeves and my beloved red cowboy boots again (see pic to the left haha) is only surpassed by my excitement for my next project: India Pale Ale at Manhattan Theatre Club!
Rehearsals began last week and I'm so STOKED about the discoveries we've been making, the experiments we've been conducting, and in general just getting to work with such an incredibly talented, generous group of humans every day. It's also a huge #actorlife milestone for me- remember how I understudied on this stage last year?? Now I get to be ON it! I'm incredibly proud and humbled to have reached this new point in my career, especially by helping to tell this particular story. More info on the show and how to GET YOUR TICKETS is below, but first, I feel compelled to share a more somber thought…
It has been quite cathartic, personally, to be working on this play at this time of year. Yesterday was September 11. For many of us, it was an anniversary of a day we wish had never happened, but even without all the formal remembrances it's a day we can't – won't – ever forget. The day itself always fills me with heartache; it feels like everyone walking the streets of the city I call home is connected in shared grief as we go about our business. And yet, for me the hardest part is the day after- today. 17 years ago today is when I was first told to "go back to my country," a command I didn't have a witty comeback for at the time because…well, this is my country. I know fear of "the other" has existed since the dawn of time, but since that fateful day, I and many Americans of a certain…shall we say…pigmentation… have been subjected to statements like that and worse at an alarmingly increasing rate. And representations of us in mainstream media often serve to only reinforce harmful stereotypes, which in turn provide justification for hateful behavior towards us to continue.
An awful hate crime at a Sikh gurdwara in Wisconsin was one of Jaclyn Backhaus's impetuses for writing this play, but it is not the central issue. This is one of the many reasons why I am beyond grateful that MTC is supporting and celebrating an American story like India Pale Ale. Because it is a story about family, love, history, dreams, and loss; a story about food, community, beer, storms, and pirates. It is the first time I've portrayed a character whose Indian ethnicity and cultural experience are central to her identity, yet she doesn't have an accent and she's not the daughter of immigrants. It is the first time I've felt my own struggle to be accepted as American – and my journey to accepting that I have no control over how or what anyone else thinks – depicted so poignantly and specifically. It gives me hope that this is just the beginning of an expansion of the definition of an "all-American" story. I hope to see you at the theatre.
About the Show
A World Premiere by Jaclyn Backhaus
Directed by Will Davis
With Purva Bedi, Angel Desai, Sophia Mahmud, Nate Miller, Shazi Raja, Nik Sadhnani, Lipica Shah, Sathya Sridharan, Alok Tewari
PREVIEWS begin: October 2, 2018
OPENING night: October 23, 2018
LOCATION: NY City Center Stage I, 131 West 55th Street
In a small Wisconsin town, a tight-knit Punjabi community gathers to celebrate the wedding of a traditional family's only son, just as their strong-willed daughter announces her plans to move away and open a bar. As they come together for feasts filled with singing and dancing, one generation's cherished customs clash with another's modern-day aspirations, and ghosts and pirates from the family's past linger in everyone's thoughts – until one sudden event changes everything.
Get Your Tickets

Cuz they're ON SALE NOW!
Right now we're on sale through November 18, BUT…as with all theatre, what happens after that date is dependent on demand. And okay fine, critical reception too, but mostly demand. I have so much faith in this show and this story and I hope you'll be able to join us. Let's break the box office!
Here are your ticket options:
1) Click HERE to buy tickets directly from City Center and choose your own seat.
2) Email me for $45 staff rate tickets (best available seats) OR if you have a group of 8 or more for a group rate!
3) If you're under 35, join MTC's 30 Under 35 program, which is FREE and gives you access to $30 tickets to all shows.
4) $25 rush tickets: for students in person at the City Center box office OR daily for anyone with the TodayTix app.
5) Like my Facebook Page, where I'll post periodic comp offers during previews.
BONUS!
Check out the trailer above for the English dub of the acclaimed Japanese fantasy film
Maquia: When the Promised Flower Blooms.
You just might hear a familiar voice ;-p AND it's going to have a North American release on September 21!! Click
HERE
for a list of screening dates, times, and locations!
DOUBLE BONUS!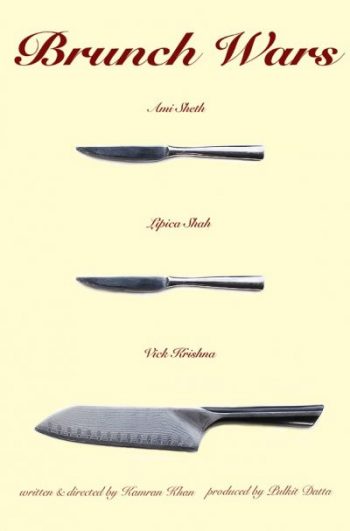 Brunch Wars, a short dark comedy I shot with my Kalakars crew (what what!) has officially entered the festival circuit! Keep an eye on our Facebook Page for more screening dates as they roll in:
September 22 – Chicago South Asian Film Festival
TBA in October – Adirondak Film Festival