It's wonderful to be back in the Twin Cities (even if winter is already here brrrrr…)
I'm so grateful that the inimitable Jack Reuler keeps bringing me back to my theatre home away from home, Mixed Blood, to keep telling beautiful stories! I'm here this time as part of the ensemble of Simon Stephens' The Curious Incident of the Dog in the Night-time, based on the novel by Mark Haddon and directed by Jack Reuler himself.
If you're in the area, please join us – we open ONE WEEK from today and it's going to be a really special show. Details below!
About the Show
Christopher Boone, a young man on the autism spectrum, sets out to investigate the bizarre death of a neighbor's dog, setting into motion a series of events that expose far greater mysteries. As the clues fall into place, they reveal a community of disparate characters, a family with secrets, and a gifted mind in complicated relationship with the world.
To tell Christopher's story and show the world through his eyes, I'm thrilled to be sharing the stage with this incredibly talented cast: MacGregor Arney as Christopher, Regan Linton as Siobhan, Zack Myers as Father, Miriam Laube as Mother, and Raul Ramos, Bruce Young, Tom Reed, and Tinia Moulder in the Ensemble with me. Us ensemble members will be portraying all sorts of people whom Christopher encounters on his journey. I'm quite enjoying this trend (and challenge) of once again playing multiple characters in the same project!!
Get Your Tickets Here!
Dates: Nov. 10 – Dec. 3, 2017
Times: 730pm except Sundays at 2pm
Cost: FREE thanks to Mixed Blood's Radical Hospitality program! BUT click HERE if you'd like guaranteed admission or if you want to show your support by becoming a Member.
Never heard of Radical Hospitality?? It's one of the many reasons why I LOVE working here: admission is provided at no-cost for folks who find cost a barrier to attending Mixed Blood. Admission is on a first come, first served basis. The box office opens two hours before every show; seating begins 30 minutes before show time and is general admission (no assigned seats). Mixed Blood is also physically accessible and offers ASL interpreting, audio description, assisted listening devices, and captioning for its productions. Patrons self-identifying with a disability also can get free guaranteed admission and free transportation to and from Mixed Blood.
---
Milestone Alert!!!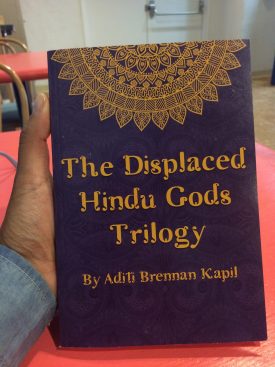 See that book in the picture? It's the PUBLISHED playscript of Aditi Brennan Kapil's Displaced Hindu Gods Trilogy AKA the first play(s) I did at Mixed Blood (back in 2013) AKA – here comes the milestone! – the first time my name is published as the actor who originated a role! Or in this case – ROLES!! I portrayed Kalki in Part 2 The Chronicles of Kalki and Shiv in Part 3 Shiv. Want your own copy? Click HERE!