Can you believe it's already 2018?! This time last year I was just embarking on my quest for "alignment" – literally adjusting my spine to bring my body back into alignment and metaphorically focusing on having my actions align with my goals and priorities. What a ride!
This year, I'm going to focus my energies on "accountability/account-ability." In September I left my longtime survival job (10 years!!) at the Red Cross which means that now…I am an Actor. Period. It is terrifying and terribly exciting to have the privilege of spending ALL of my time pursuing my dreams. I want to hold myself accountable to remaining open to opportunities whenever or wherever they knock, while also learning to better manage my literal accounts and challenging my abilities in new ways. I have no idea how this new chapter will end- I'll keep you posted!
What are you hoping to focus on this year? Shall we help hold each other accountable?? Reach out and let me know <3
One thing is certain though…
…Rachel: the Musical is BACK!! I've been helping to develop this piece, about the life, struggles, and triumphs of writer/environmental activist Rachel Carson, since 2015 with sister-brother writing team Jessie and Jared Field and director Ari Laura Kreith. And now we have TWO opportunities to continue to develop the story this month and share our work with the world! I hope you can be there. Take a look:
JDT Lab at Guild Hall

We've been invited to the John Drew Theatre Lab at Guild Hall in East Hampton, Long Island, NY to workshop a new draft of the musical, which we'll then present as a work-in-progress public staged reading. This version builds upon the discoveries we made during our production at New York Summerfest this past August. Here are the details, in case you'll be in the area:
DATE: Monday, January 8
TIME: 730pm
PLACE: 158 Main St. East Hampton, NY 11937
COST: FREE!
RSVP: just click HERE!
Union Congregational Church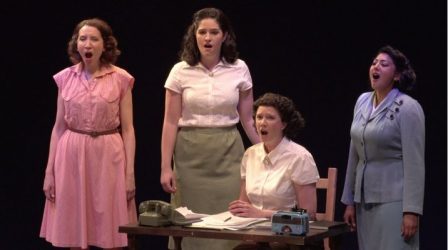 Union Congregational Church in Montclair, NJ, has invited us to perform what we develop at JDT Lab in their beautiful space!! We'll spend the intervening weeks rehearsing and committing the updates to memory, and then head to New Jersey to mount the show for a new audience.
New play (or in this case musical) development is my FAVORITE thing to do as an actor, and it's so wonderful (and lucky!) that we've been given the opportunity to present Rachel at each stage of its development. Here are the details:
DATE: Fri. & Sat. January 19-20
TIME: 8pm both nights
PLACE: 176 Cooper Ave. Montclair, NJ 07043
COST: $12-$30
RSVP: just click HERE!
---
2017 Highlights