Who's back? Marie Rodell and the rest of Rachel Carson's posse, that's who!
Next week, I'll be singing my face off at NY Summerfest with some really wonderful humans as we present a new version of Rachel, a musical about the life of one of my personal heroes, Rachel Carson.
I was lucky to be a part of a workshop of an earlier draft of this piece in the 2015 Fresh Fruit Festival, and I'm so grateful to have the opportunity to tell her story again- for THREE NIGHTS ONLY. Ticket information is below – it would be great to see you there!
About the Show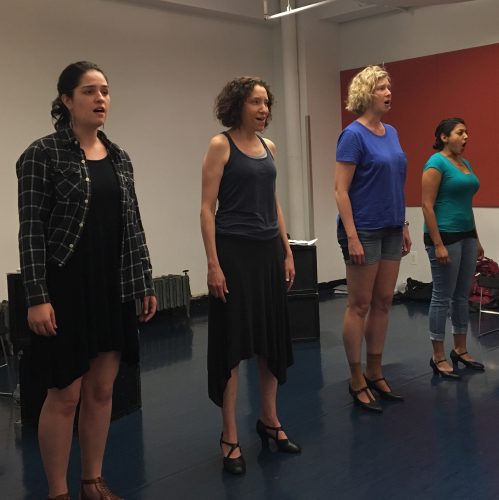 Written by brother-sister writing duo Jared and Jessie Field and directed by Ari Laura Kreith, Rachel is about the life of biologist Rachel Carson, author of "Silent Spring," which sparked the modern environmental movement. Struggling to find her place in the world as a scientist and a woman, her skill as a writer eventually brings her success and critical acclaim. However, when the destructive nature of pesticides is brought to her attention, Carson jeopardizes her health, her success, and the deep relationship she shares with her neighbor Dorothy Freeman to take a stand for the earth.
The show takes place in dual timelines, with the brilliant Rebecca Muller and Erin Fish sharing the role of Rachel Carson in her younger and older years and Amie Bermowitz playing Dorothy (and a few other characters). I'll be portraying four different women who inspired and were inspired by Rachel, while singing the alto line in the comfy basement – the pic above is what my face looks like when I hold a low F (!!!) for 8 measures. Join us!
Get Your Tickets Here!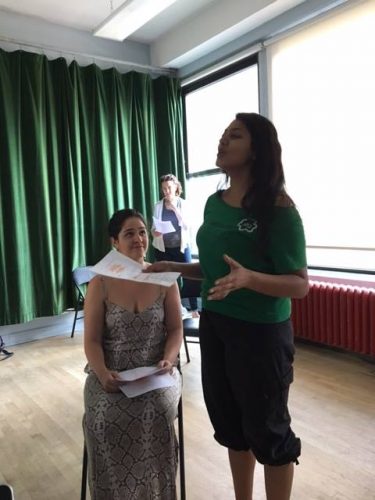 Rachel will have ONLY three performances next week as part of New York Theater Festival's 2017 Summerfest, and tickets are selling well so far! The dates are:
Tuesday, August 15th at 6:15pm
Saturday, August 19th at 8:30pm
Sunday, August 20th at 1pm

Click HERE to purchase your ticket!
All shows are at the Hudson Guild Theatre:
441 West 26th Street
New York, NY 10001
If you're interested in learning more about the show's development and Rachel's history, check out our website HERE. And if you're the social media type, please LIKE the show on Facebook and FOLLOW it on Twitter – we really appreciate the support!
Annnnnnnnd if you WILL be coming to the show, please let me know which night so I can come say hello to you afterwards!
---
Video Bonus
Did you miss my segment on the Today Show a few weeks ago?! It was chock full of useful information for your summer safety 🙂 I'm proud to have had the opportunity to once again represent the American Red Cross on such a scale, spreading the preparedness, health, and safety Word!