Happy Summer!
It's been quite an exciting few months:
After returning from Geva Theatre Center at the end of February, I went back to work in the voiceover booth. I recorded two video games (my firsts!), some industrials, and am about to start working on Season 2 of Nickelodeon's Regal Academy. I also moved. AND… I booked my first understudy gig!!!
I'm so excited to be understudying the role of Jess in Martyna Majok's new play Cost of Living, now playing Off-Broadway at Manhattan Theatre Club!! More info on the show, what it means to be an understudy, and a *TICKET OFFER* below!
Feel free to like my Facebook Page and/or follow me on Twitter to get more frequent updates on my career goings-on.
About the Play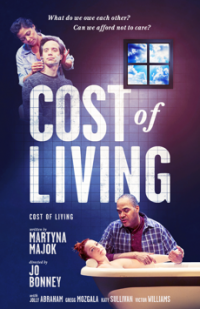 Directed by Obie Award winner Jo Bonney, this achingly human and surprisingly funny play from exciting new voice Martyna Majok is about the forces that bring people together, the realities of facing the world with physical disabilities and how deeply we all need each other. Truck driver Eddie (Victor Williams) is struggling to rebuild a relationship with his estranged wife Ani (Katy Sullivan) and Jess (Jolly Abraham) is trying to navigate the day-to-day with John (Gregg Mozgala), her new boss in a job that she desperately needs. People are hard.
We're a New York Times Critics' Pick (!!!) and Variety says it's "A powerful, bittersweet play about people who need other people to survive."
We have 8 performances a week, Tuesdays through Sundays, and are currently on sale through July 16. But stay tuned – we're waiting to hear if we'll extend past that! Click HERE for more information about Cost of Living and Manhattan Theatre Club.
What's an Understudy?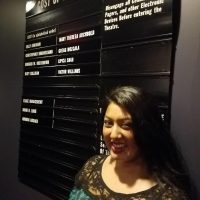 Basically, an understudy is an actor hired to learn a part (or "track") as backup in the event that the actor cast in the part is unable to perform in a show. When a show has a long run (Cost of Living will have at least a 9 week run) and 8 shows per week, *stuff* happens. Maybe a cast member gets sick or books a commercial or has a family emergency. If they can't make it to a show (with or without advanced notice), their understudy steps in – the show must go on, after all.
I'm a type of understudy called a "standby": I show up at "half hour" to every performance (30 minutes before curtain) and hang out before and during the show *just in case.* It also means I better KNOW THE SHOW inside and out, so that if I need to step in no one else is thrown. All understudies are cogs in a well-oiled machine: replace one and the machine still works.
My wonderful fellow understudies (Christopher Imbrosciano, Mary Theresa Archbold, Howard Overshown) and I watch the show almost every night and attend 2 understudy-only rehearsals each week. It's very different from all my previous gigs, but I'm enjoying the challenge!
Ticket Offers!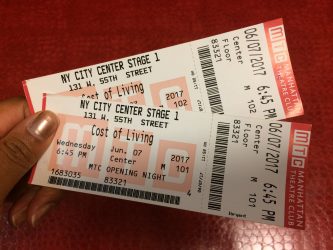 As an understudy, there's no guarantee that I'll ever get to go on (which is certainly the bummer part of the gig), but the show is SO BEAUTIFUL that I hope you'll come see it anyway!! And bonus: I have to be at the theatre for every performance, so I'll at least get to see you after the show 🙂
Here are some *TICKET OFFERS* to entice you:
1) Click HERE or call the City Center Box Office at (212) 581-1212 to purchase tickets – use code F&F for a "Friends and Family" discount!
2) Download the TodayTix app and grab one of the first come, first served rush tickets ($25) on sale starting at 10am on the day of each performance.
3) Join Manhattan Theatre Club's "30 Under 30" program and get a pair of $30 tickets to any MTC show! Click HERE for information on how to join.
4) Contact me! I have access to $45 house seats and a limited number of comps each week. Just give me a few days advanced notice 🙂
And if I DO learn I'll be going on (in advance or last-minute), I'll announce it via a quick e-blast (sign up for the newsletter HERE) and on social media (like my Facebook Page and follow me on Twitter) – stay tuned and fingers crossed!!