At the beginning of 2013, like so many others, I made a few Resolutions:
Do less, more consistently
More actively support friends
Eat more vegetables
Well…we're almost 3 months in and I'm proud to report that thus far I have kept my resolve. Yes, even with the vegetables – that's is a SERIOUS first. My year has already resulted in a few milestones (read more about them below), and I can't wait for what's next. Bring it on, 2013!
First: Off-Broadway Show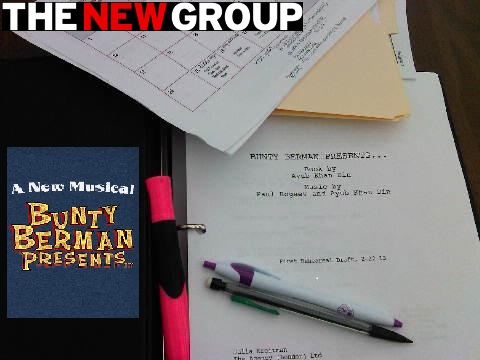 About a year ago, I auditioned for and was cast in the first reading of a new musical written by Ayub Khan Din. This was followed by another reading a few months later, and an extended workshop a few months after that. But the show didn't become real for me until February 25th, when I walked into the official first rehearsal for the World Premiere of Bunty Berman Presents…, the third show in The New Group's 2012-2013 season.
Bunty Berman Presents… is a hilarious story with a 1950s Bollywood-meets-Hollywood-meets-Broadway flavor (our co-composer Paul Bogaev dubbed it "Pastrami Tikka Masala"). It it the story of Bunty Berman, a movie producer whose reign as the King of Bombay is all but over, and the divas, mobsters, and ambitious tea-boys he must navigate through in order to keep his studio afloat.
I play Shambervi, the best Heroine in the business (if she does say so herself), an independent woman in a time when it wasn't popular to be one. She has clawed her way to the top of the pack, and she intends to stay there for as long as she possibly can, prioritizing career longevity above all else. Her steely facade cracks when… well I can't give everything away; you'll just have to come see the show for yourself!
It's incredibly humbling and inspiring to be working with such a talented cast and crew – I can't wait to share the stage with them, and this story with all of you!
Follow me on Twitter or Like my page on Facebook for daily updates on the rehearsal process & behind-the-scenes peeks at the making of the show.
First: TV Commercial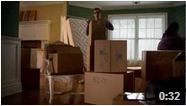 Near the end of last year, I booked my very first commercial for Optimum Online (thank you Amy Gossels Casting and my uber awesome bloc NYC family)!
It was an especially fun audition – lots of comedic facial reactions and a bit of improv – but it was even more fun to shoot. We had so much fun on day 1 that they ended up bringing me back to film another spot!
Spot 1 is a short for their new "Moving" campaign, and it involves me packing while looking for my cat- Watch it HERE!
Spot 2 is longer, featuring me cooking with my mom's "help" via Skype. For the life of me, I can't find the latter spot online – but I do know it's airing on TV right now!
It was really fascinating to see how they filmed the longer spot because it involved a bit of camera trickery. One of my favorite moments on set was the attempt (or rather…many, many attempts) to get the signature shot – the movement from mixing spices to checking the pot on the stove. You can't tell from the final cut, but I'm actually OPERATING the camera! I was so nervous about breaking something or pushing the wrong button or messing up the frame, but the DP and camera department were very patient with me. We must have rehearsed that choreography a thousand times. Once we started filming, if memory serves, we nailed it on Take 12.
Live and learn! And then be very grateful for the talented people behind the scenes who make us actors look good 🙂
First: Acting Reel(s)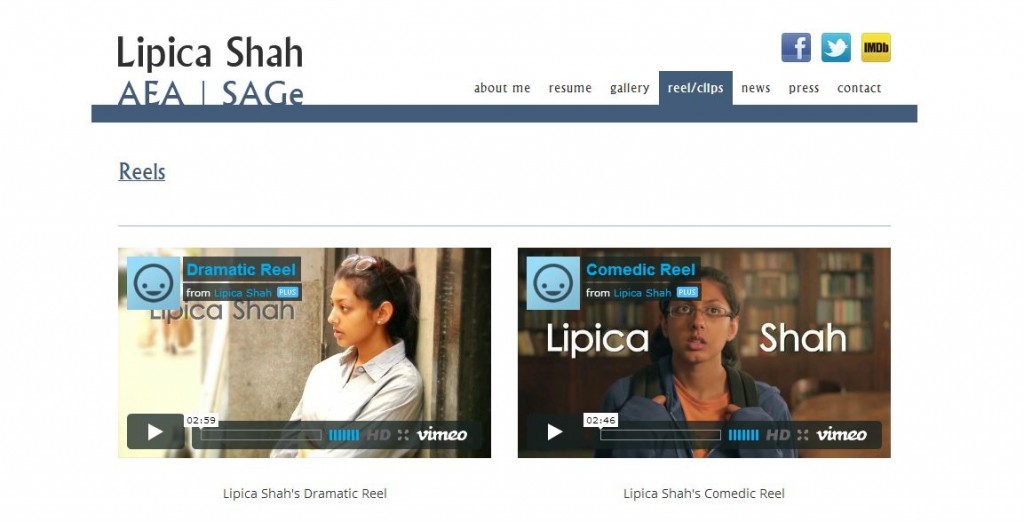 Every actor hears about the importance of a reel. "It's your calling card;" "It's how the industry gets to know you;" "You won't get work without one." Right. No pressure. *GULP*
I avoided making a reel for a long time, partly because I was kind of scared of it and partly because I didn't have enough footage that I was proud of. All of that changed when I finally decided to stop fighting the idea of "actor as business" and embrace all facets of marketing myself.
For me, this positioned the reel as a challenge of sorts: I needed to stop thinking of it as the be-all-end-all. Was it possible to change my mindset and just think of the reel as something for me, a short collection of my favorite work? Answer: YES.
And now…I am super jazzed to share with you my very first reel(s) on my recently jazzed-up-and-relaunched website!! Check them out by clicking the REEL/CLIPS tab above.

Shout out and a bajillion THANK YOUs to Melyssa Vazquez, my friend and awesomesauce editor, and Kyle Walters, my friend and incredibly talented web designer (who is also a brilliant actor), for sharing their skills and working so hard to make my reels/site look awesome. Spread the word!