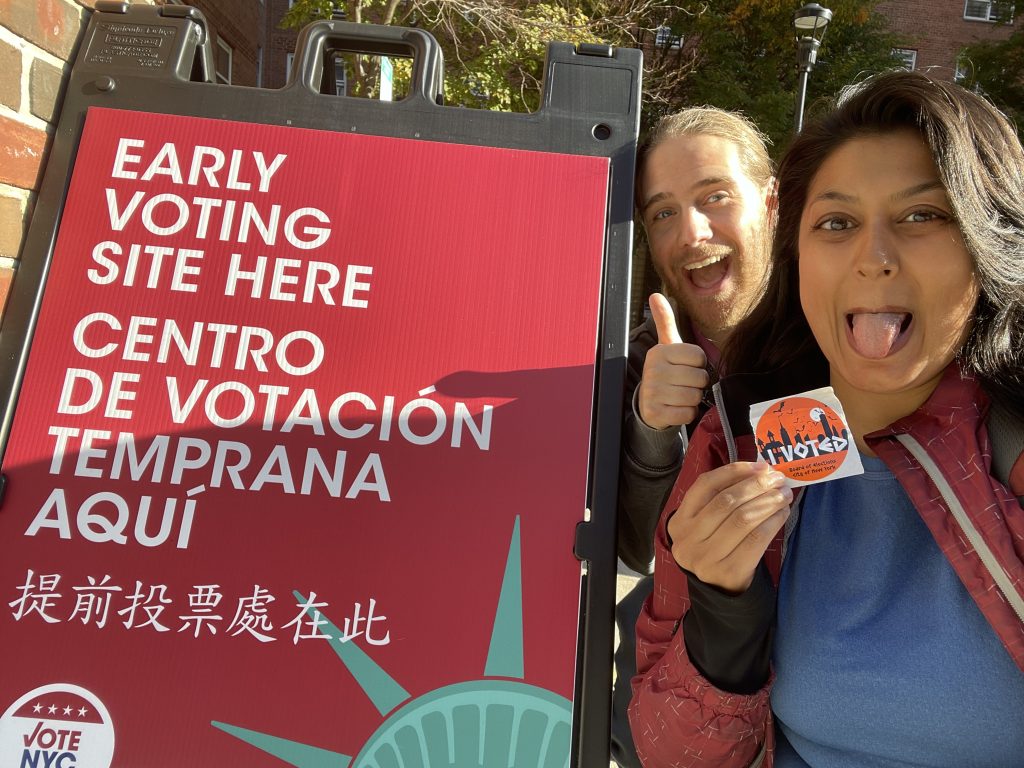 My partner Eric and I voted early in New York City last week because…I'm currently in California just for a week, doing one of my favorite things: new play development!
I'm so excited to have been invited to join the team for Minita Gandhi's newest piece, Nerve, an exploration of identity, legacy, and family through the lens of food. Food?! YES. Our co-directors (Liz Carlson and Nick Avila), my fellow castmates (Ranjita Chakravarty and Katie Tekl), our documentarian (Toby Shaw), and I spend half of each day learning, cooking, and eating family recipes from Minita's mom, Jyotsna, who is a key collaborator on this project, and the other half working on scenes inspired by the conversations and discoveries made during our time in the kitchen. Have I mentioned how much I love my job? Berkeley Repertory Theatre's Ground Floor Residency Lab's emphasis on process over product is truly unique, and it's allowed all of us the freedom to play, experiment, and fail in an extremely flexible space, which has resulted in some wonderful creativity! Enjoy some pictures from our fun (and delicious) process below.
My other exciting news is that I was able to be here in Berkeley because it fit into…my shoot schedule. I'm THRILLED to share that I've booked my first recurring role on television!! I'll be in several episodes of a new show that will air on HBO sometime next year! That's all I'm allowed to say for now, but I have been sharing some behind the scenes pictures and stories on Facebook and Twitter, including this peek inside my trailer:

Here's a quick on-set story: on Halloween, I was scheduled to film all day, and I felt a bit bummed that I wouldn't be home to hand out candy to the Trick-or-Treaters in our building. So I brought some candy to set with me, and whenever I was on a break, I went outside and handed it out to every person in a costume who passed by. My castmates assured me that for this one day it wasn't creepy to ask a bunch of kids whether they'd like some candy from a stranger haha!
Speaking of unofficial holidays…this Tuesday, November 8, 2022 is ELECTION DAY! I would usually be working the polls as a table inspector, but since I'm in California, I had to unfortunately skip this election. Instead, I'm sending out this gentle reminder to please VOTE TOMORROW if you are eligible and haven't voted already. Wherever you are in the country, I promise: Your Vote Matters. If you have any questions about where or how to vote, please visit VOTE.ORG. If you're in New York City, please remember to FLIP YOUR BALLOT and vote on the four ballot proposals! I voted YES on all four and am happy to chat about why. Let's all do our part to ensure this election doesn't suffer from the same low turnout as past midterms <3
Photos from Ground Floor