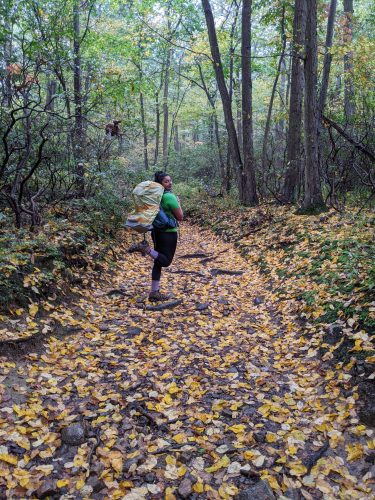 What is a play? That question has been on my mind a lot lately. With theatres closed until who knows when (read: when this pandemic is under control and it's safe to gather en masse indoors again), I've been struggling with what it means to be a theatre artist right now. And if theatre is even necessary right now. I've said before that so much of the transition to "digital theatre" has been…less than satisfactory as both a participant and an audience member. Basic things like making eye contact with your scene partner are literally impossible on virtual platforms, which then makes me wonder why we're trying so hard to recreate that kind of human connection when it's destined to fail anyway. But is it destined to fail? Should we keep trying? Welcome to the inside of my brain; it's very existential in here. I look forward to my now almost-weekly hiking, camping, and backpacking trips (see: pic above from Harriman State Park!) when I can shut my brain off and just…stare at trees and birds.
Luckily for me, I've actually got a place to channel all of these existential thoughts: I'm deep in rehearsals for a show called Readymade Cabaret 2.0 with the theatre company This is Not a Theatre Company. It's an interactive, online performance that explores whether fate, chance, or free will determines the course of our lives (or not). More on this Dada-inspired process below, including how you can get (discounted) tickets!
One more thing: have you made a plan to vote yet? Have you checked to see if your family and friends have a plan to vote? How about your elderly neighbor down the street? I'm gonna state the obvious but YOUR VOICE MATTERS. Voting is the one power we have to hold our government accountable. I am not a rich person (hello I'm a theatre actor), so voting is my one opportunity to choose the people who will make decisions that will directly impact my life. Visit Vote.org to join me in making a voting plan today!
What's "Readymade?"
Just after WWI, Marcel Duchamp coined the term "readymade" to challenge societal preconceptions of art by asking "what is art?" He began creating pieces made from manufactured objects, and argued that art is defined by the artist: that the choice of an object is itself a creative act, that by cancelling the utile function of an object it becomes art, and that the presentation and addition of a title to the object give it new meaning. Thus, life, everyday life, can become art. This anti-art approach to art birthed the rebel Dada movement (cue Star Wars theme song).
Cut to 2020, when we all find ourselves suddenly thrust into a socially distanced, VERY digital world. This is Not a Theatre Company is now asking a similar question: what is a play?
Based on Marcel Duchamp's notions of readymade art and the philosophies of Dada as practiced by Tristan Tzara, Readymade Cabaret 2.0 speaks to the current COVID moment by asking whether our lives are determined by chance, fate, or free will.
Character-based scenes are interspersed with computer-generated Dada poetry, computer-generated art, audience-created aleatory music, and chance dances created by audience prompts typed into the chat. Plus, the play's structure is determined by the audience, who roll dice to choose which scenes are performed, and in what order.
Ready to take a chance and make your own meaning? Get your ticket and join us!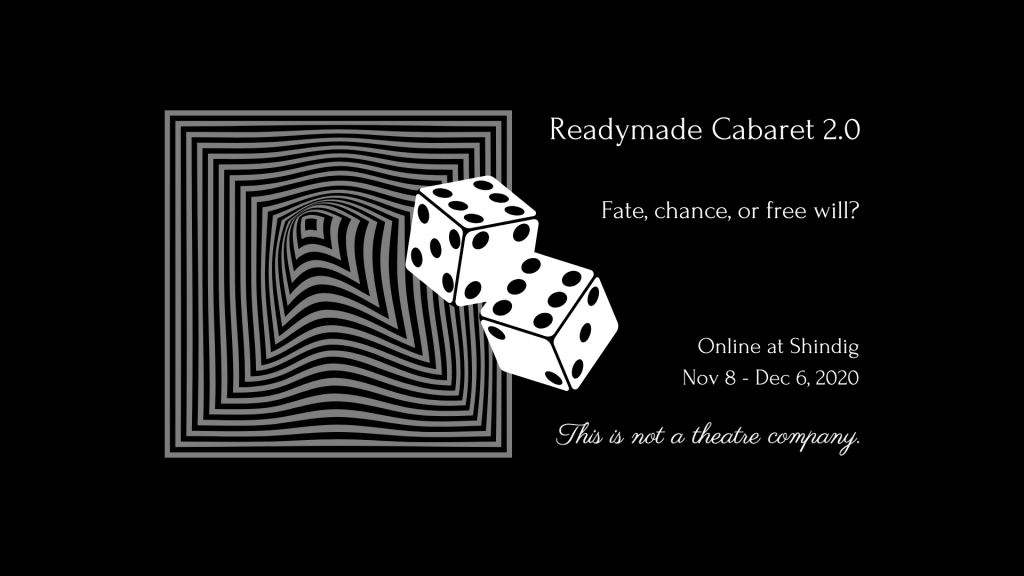 Conceived and directed by: Erin Mee
Scenes by: Jessie Bear
Computer-generated Dada poetry by: Brent Bailey
Computer-generated Dada art by: Beatrice Antonie Martino and Dyan Jong
Chance dances and aleatory compositions by: Jonathan Matthews and YOU the audience
Featuring actors: Toussaint Jeanlouis, Marisa LaRuffa, Christopher Morriss, and me
Stage Management by: Evangeline Whitlock, Kelly Kirby, and Bradley Costa
DATES and TIMES
Fridays Nov. 8, 13, 20, and Dec. 4 at 8pm EST
Saturdays Nov. 14, 21, and Dec. 5 at 2pm and 8pm EST
Sundays Nov. 15 and Dec. 6 at 2pm and 8pm EST
Sunday Nov. 22 at 930am and 2pm EST
All performances are on the online platform Shindig.
Tickets are $15-$25 HERE!
*Use code EARLIESTBIRD by October 31 for $10 off*
Bonus 1: Brunch Wars Screening!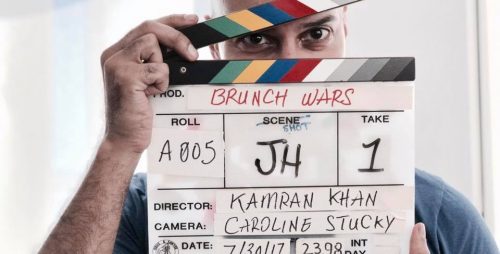 I loved being a part of the
Brunch Wars
team – it was such a delicious delight to shoot this dark comedy! If you haven't seen it yet, we'll be screening in the "
Alternative Realities
" shorts program at this year's virtual Boston Asian American Film Festival, available on demand October 22 – November 1. You can also definitely still catch us on
Amazon Prime
.
Bonus 2: #MyNameIs Lipica
Back in June, my friend AnaSofía Villanueva invited me to write a Name Poem for a video collaboration she was commissioned to create by
Mixed Blood Theatre Company
(see her full piece
HERE
). I'm sharing my full poem now as part of the
#MyNameIs
movement, which arose as a response to politicians making fun of Senator and Vice Presidential candidate Kamala Harris's name. It took me a long time to love my own name because people couldn't (still can't) pronounce it and bullied me as a kid. I stand with Kamala Harris. America's diversity is our strength. #VOTE!