Oh hello there! It is I, your humble thespian, returning from a (rather long) writing hiatus – 2011 has kept me very busy thus far! However, as I am currently in the midst of said wonderful chaos, I must restrict this posting to a few very exciting tidbits. Cross my heart, I pledge to pen something with a bit more juice very soon!
First, some highlights:
In January my first co-star role aired on Comedy Central's Onion Sportsdome (if you haven't seen it, check it out HERE).
In early February I went with my fellow cast and crew to the premiere of First Kiss in the San Francisco IndieFest.
In March a pilot audition led to my first director's session – I was SO pumped after that one!
April brought a shoot date for my second co-star television role, this time for a show on USA Network (more on this in a hot second).
Last month I found myself on my first major-budget feature film set – the specific details of which I am not yet at liberty to disclose – in a principal role. Equally as exciting: my three lines Taft-Hartleyed me to SAG-eligibility!
And that brings us to June – what a month it's shaping up to be.
I am honored to work with Rising Circle Theater Collective in their Summer PlayRise Festival.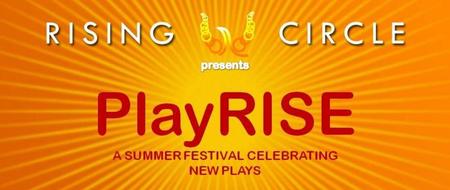 PlayRise is a week of staged readings, the culmination of a writing intensive for five up-and-coming playwrights. I will be reading (and singing!) the role of Birdie in Deepa Purohit's new work, Flight, to be directed by Kareem Fahmy. I have been working with Deepa for a few weeks to find Birdie's story and soul, and I cannot wait to give her a voice.
The title of this post promises some television news, right? WELL! Get your DVR/TiVo/old school VHS recorder ready: at 9pm on Tuesday, June 21st, on USA Network, I will be appearing on the hit show White Collar!

I have a co-star role (aka I have one scene, but I ain't counting! It was incredibly fun to shoot, I learned SO much, and I am so grateful for the opportunity) as Melinda, the assistant who…well let's not spoil it, shall we? You'll have to watch and see what happens 🙂
And finally…the musical. If I'm being honest, most of my nerves stem from this component of my June. The last time I sang in public – on a stage, not in my shower, which technically doesn't count as "in public" anyway – I was in high school. A lifetime ago! And up till now, I think I thought that the singer inside me had just disappeared. I've come to realize that she's just been in hibernation, lying in wait for…well perhaps for the right moment. And here it is: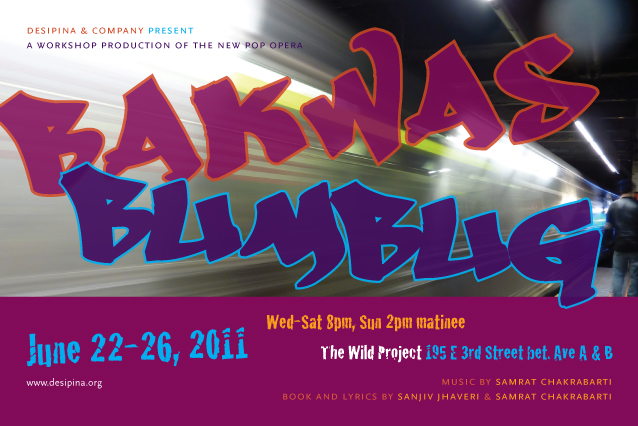 Bakwas Bumbug, a new pop opera written and directed by Samrat Chakrabarti and Sanjiv Jhaveri, produced by Desipina & Company. It's a reinvention of Charles Dickens' A Christmas Carol, told through the looking glass of New York City immigrants and hyphenated America. I will be portraying Sunita, a "bright-eyed, young Indian-American girl" – emphasis on the "American" – trying to balance her roots and her desires. If you're going to be in the NYC area, please consider coming to see the show! Here are the details:
WHEN: Wednesday, June 22 – Saturday, June 25 at 8pm and Sunday, June 26 at 2pm
WHERE: The Wild Project (195 East 3rd Street, New York, NY – between Avenues A and B)
TICKETS: $10 and they're selling FAST – visit www.desipina.org to reserve yourself a seat
WHY: Because it's going to be epic. You'll laugh, you'll cry (or at least get a little verklempt), you'll get the songs stuck in your head…
I bid you adieu (there, we've reached the end of my French) with a reminder to check back here and on my Facebook Page for new pictures, videos, and career goings-on.  Till next time!