This post is for all the actors out there who, like me, tend to be a little self-deprecating or jaded when we're not active. You know who you are: too few auditions, working too often at your survival job (ohemgee I do NOT want to be a professional waitress/swim instructor/bartender/personal assistant/insertyourdayjobhere), "nobody wants to hire me," "ugh will I ever work again?!"
A few years ago, I wrote a post about my first experience with an acting phenomenon I like to call "The Wave." The Wave is the crazy monsoon of opportunities that always seem to come a-knocking when one has been in a drought (read: slump, funk, recession, etc.) for some time. The Wave is an actor's best friend. Even if you don't know how to swim.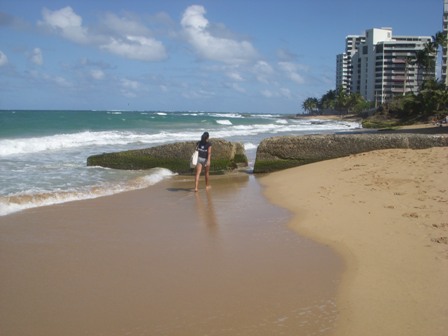 Since mid-April, I've been riding one of the biggest Waves of my career (thus far). It's been inSANE. So insane I felt compelled to capitalize  part of the word so that you, dear reader, would know exactly where to put the emphasis.
After a multiple-month dry spell, I was starving for work – character work, creative work – and I was getting a bit cynical and bitter about the whole industry. This, in turn, definitely affected my performance at the few auditions I went on. Putting on a brave, happy face was really difficult to do day after day. It's hard to be honest with yourself when you're in one of these periods. I know it sounds so cheesy and ridiculous, but once I finally admitted that I was the only person standing in my own way, everything changed. (For the record, I go through these cycles at least twice a year. I'm aware on an intellectual level that it's oh-so-bad on oh-so-many levels, but hey, I'm working on it!)
I met with a few directors about acting in their upcoming short films; did a table read of a new musical with some very talented people at a reputable off-Broadway house (it's still in development, so here's hoping everything moves forward with this hilarious show as planned!); was offered a part in a workshop of a brilliant new play; found out my first feature film (in which I play the lead) will premiere in competition at a prestigious New York festival. And there have been many more auditions – and relationship-building with industry professionals – so who knows what's next on the agenda!
All I know for sure is my old school 2012 DayMinder Planner is jam-packed with things to do and places to be and I could not be happier. Thank you, Wave. I'm especially looking forward to two things on the calendar right now:
1) Veil'd: A Fairy Tale, a workshop production of Monet Hurst-Mendoza's beautiful play, in which I get to channel my inner 16 year-old to create the character of Dima.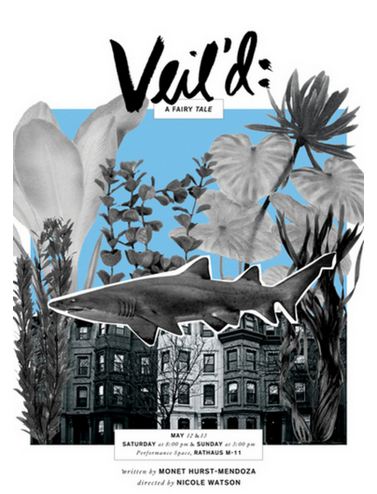 "Not every fairy tale has sunshine. Dima is a 16 year-old outcast with a rare skin allergy which causes her to hide behind her mother's old burqa. Her best friend is a talking shark named Speedo that she keeps hidden in her bedroom. Between Dima's obsessive attachment to her burqa and her inability to step outside of the family's New York apartment, Dima's parents fear that she will never experience the world around her. That is, until she begins a secret friendship with her "Prince Charming"- a streetwise hipster poet named Elliot, who throws poems through her window. Rapunzel never had it this bad. Or this good."
Produced by the Rising Circle Theater Collective's 2012 Refinery, Directed by Nicole Watson, and Stage Managed by Courtney Ulrich, this workshop goes up at the Kupferberg Center for the Arts at Queens College next week (Saturday-Sunday, May 12 and 13). By that time, we will have had only ten rehearsals (!!!). I'm so proud to be part of such an incredibly talented cast (Farah Bala, Todd Bartels, Alok Tewari – here's to you!), and we've had an amazing time bringing this piece to life, together. This workshop has been a collaboration in the truest sense of the word, exactly the kind of character work I love to do. I'm excited to share this story with you all! Come see the show:
Saturday, May 12 at 8pm & Sunday, May 13 at 3pm
Rathaus M11 Performance Space at Queens College, 65-30 Kissena Boulevard, Flushing, Queens
Admission is FREE! No reservations required!
2) Let's Be Out, The Sun Is Shining (formerly titled Oh, Sophia) will premiere on May 26th as an Official Selection of the New York Indian Film Festival!!

To top it off, I found out a few days ago that I am one of five women nominated in the "Best Actress" category for my work as Diya!! AHHHHHHHHHHHHHHHHH (sorry, slightly excited)…my Director (and the writer/editor/producer/so many more job titles I can't even remember them all) and friend Bornila Chatterjee and I will be attending the Opening Night Red Carpet ceremonies and celebrations, which means A of all – cue the stylists! And B of all you can expect many many pictures to commemorate the occasion 🙂
"Let's Be Out, The Sun Is Shining is about a shy Indian-American receptionist named DIYA (Lipica Shah) with romantic notions of love who falls in love with a charismatic Brooklyn bartender PADDY (Scott Lyman) to whom everyone is disposable. When Paddy rejects Diya for another woman (Madeleine James), she immerses herself in his world of struggling actors and musicians (Angela Gulner, Eli Bridges, Margaret Ying Drake, Jabari Brisport) who live potentially displaced in Bushwick, Brooklyn. Though Diya's protective older brother (Samrat Chakrabarti) and uncle (Anil Chandiramani) do not understand her need to "change the pattern" of her life, the magnetism and passion of this new circle of friends teaches Diya a few important lessons about lust, love and staying true to oneself."
I've been looking forward to sharing this film with you all for a LONG time – it was an intense labor of love for all of us, and I'm so proud of the final product. Come to the screening:
Saturday, May 26 at 3pm
Tribeca Cinemas Theatre 1, 54 Varick Street, Manhattan
Tickets are $15 ($12 for students/seniors) and they are selling FAST. Click HERE to purchase yours and guarantee a seat!
The moral of the story is you really never know what's around the corner (or the river bend, if you're Disney's Pocahontas). Beating yourself up or letting yourself spiral into the blues might give you justification for eating that entire pint of cookie dough ice cream (or, in my case, coconut milk-based cookie dough ice cream), but at the end of the day it's not going to get you anywhere you want to be. The act of being an actor is a journey without a set destination; the ups and downs – the waves and droughts – are all a part of the journey to help us grow, mature, appreciate… Reaching the destination means the journey is over. And where's the fun in that?