"I haven't had an orthodox career, and I've wanted more than anything to have your respect…you like me, right now, you like me!" ~Sally Field
Six months into 2016 and I've already worked at (and fallen in love with) another regional theatre AND won my very first acting award. Say what?! Plus I learned how to embed videos into these posts so scroll down to check out my performance at said awards show!

Working in this biz comes with so many ups and downs (and, if we're getting technical, plateaus) and it feels darn good to be riding a high for a bit. Just no one ask me what's coming next, cuz I have no idea. Anyone looking for a "too young to be in charge" or "quirky best friend" or "pretty little psychopath"-type? Spread the word: Universe, I'm ready for my next adventure!
The Who and The What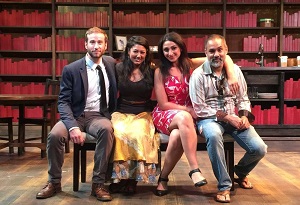 At the beginning of April, when it seemed winter would never end in New York, I traveled to uber-sunny Naples, Florida to work on a show at the beautiful Gulfshore Playhouse. The Who and The What is a play about family and secrets, written by Ayad Akhtar (he won the Pulitzer for another of his plays – Disgraced – so, you know, he's kind of a big deal) and directed by Emily Wells.
When I first read the script for The Who and The What (in 2013) I was struck by the clever writing and the brilliantly complex female characters. It's so refreshing to read a play that doesn't present women – let alone women of color – in monotone. These women, the sisters Zarina and Mahwish, are both headstrong and intelligent and flawed and charming. I HAD to do this play!
Thus began a slew of auditions, callbacks, rejections- I'm fairly certain I auditioned for every production of this show! I'd get called in for Mahwish, called back for Zarina, and vice versa. Gulfshore Playhouse called me in for Zarina, called me back for Mahwish and then…nothing. For a month. I figured it wasn't meant to be. But then Super Agent Man Jim Daly called me the day before Thanksgiving to tell me I booked it!
I spent six glorious weeks in Naples, loving every second we worked on the show and getting my fill of hashtag beach life (ahem the theatre was EIGHT blocks from the beach). It was wonderful to reunite with Rasha Zamamiri, the actress playing my big sister Zarina- the last time we worked together it was 2007 and I was a baby in college, a noob to the theatre world. Rajesh Bose played our father Afzal- he and I have worked together several times through Theatre 167; how fun to have a friend with whom to explore a new city! Eric Clem rounded out our cast as Zarina's love interest Eli- we only had one scene together (it went like this: "Hey Mahwish." "Hey Eli."), so we bonded over our mutual worship of R.E.I. (Mecca!). Friendship sealed 🙂
Closing a show is always bittersweet- it feels good to be back home in New York, but I will truly miss telling this story every night with my wonderful Gulfshore Playhouse family- I can't wait to return. Enjoy some photos from our production at the bottom of this post!
Me and My Fruitie Award!
Last summer I had the privilege of working on a new musical called Rachel, about one of my idols, Rachel Carson. I had a BLAST playing her feisty literary agent Marie Rodell, and I guess I must have done something right because All Out Arts and the Fresh Fruit Festival awarded me a Fruitie for Outstanding Featured Performance!! I was – still am – shocked and humbled and honored. Here's the full text of my acceptance speech, which doesn't begin to encompass just how grateful I am for the opportunity to be a part of the Rachel journey:
"At a time when a large portion of our country wants to build walls and our own industry is being forced to reckon with its attitude towards diversity, as an actor, it's hard sometimes to hold onto the belief that I could possibly be judged solely by the content of my character (some really smart dude once said that). Marie Rodell was a firecracker, a woman who forged a name for herself in the literary world at a time when women were supposed to leave that sort of thing to men. She was also…let's just say she was a little less tan than me. I think that's the PC way to say it. But Jessie and Jared and Ari saw her essence in me, and that was enough. I was enough. It didn't matter that we don't look alike. Thank you for taking a chance, trusting me with the privilege of bringing Marie and her way-too-high heels back to life. Thank you for seeing the content of my character – I wish more people had the vision, the courage, to be as open and willing and trusting as you. Thank you all."
VIDEO: Click the pic above to check out my performance at the 2016 Fruitie Awards and get a little taste of Marie Rodell!!
Check out some The Who and The What production photos!